MUm is resting on her sofa. Nowadays she does a lot of things like watching TV, reading, crossword puzzles, waiting. Remember, it took Marge to get there in the mid-90's. A few years ago, she felt guilty for not gardening, cooking, emptying cans, running shops in her old Nissan Micra, and not being able to meet the "elderly" at the local care home during lunch. It took a nasty leg break to change all that.
Now at the age of 94, she is learning how to handle it. I am approaching 60 years of age. What advice would he give me in my old age? "Just accept it kindly," she says. Did he find it difficult? "No, I don't think I have. For many years I was lucky not to see a scary old man." I say, you don't look anymore. "Yes, but I am very old." She laughs.
She knows she's lucky – she has two kids and four grandchildren who love her bits, has managed to live in her own home with the help of wonderful caregivers, and has a good memory even though she has no short-term memory. What was it? But it also has its benefits. He will not be angry for long.
Marge is the youngest of four children, the rest of whom have long since died. Even though she was made the head girl in her secondary school, she was never a confident child. By the time he arrived, he felt that his parents had taken good care of him. "I never told you, my mother used to call me Golda [the oldest girl] She was smart and Renee [the second oldest] Was beautiful I knew he missed me. She told me. Many times In fact, Marge was smart and beautiful – and unaware of it.
Her adulthood is not a simple journey, although she is quick to point out that few of us find it easy. When I was a child, she treated me for encephalitis for three years. In her father's later years, she cared for him through mental depression. She has many qualities (kindness, wisdom, a great sense of humor and an almost wild ability to save her children) although most of her life she lacked the confidence to see those qualities in herself. Ironically, one of her greatest gifts was to make others feel good about herself while she often felt useless.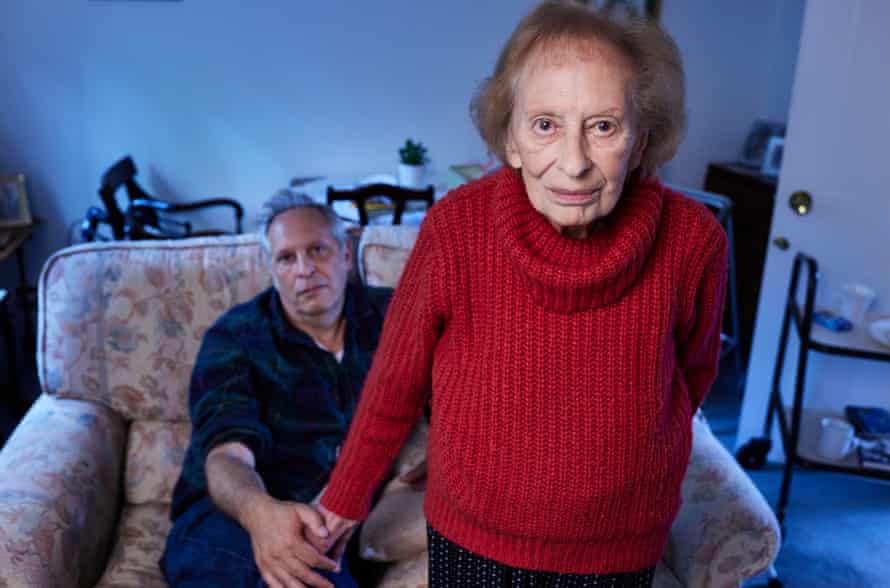 But that's a long time ago. For many years he has been shedding the uncertainties of the past. At age 60, she says, she had just begun to make progress. "I thought I was at a very good age because a lot of my worries and anxieties have left me." How so He shows me his finger. "I think if you have children you are just as worried about them." Mom has two – my sister Sharon is two years older than me. "Sharon went very smoothly, but you always did unexpectedly. So it worried me."
I hope she talks about my illness, but she doesn't. Maybe that's too obvious. "This example sounds ridiculous, but when you came home wearing big high heels, my heart sank." I remember very well. I was 12 years old, and they were glorious – black matte-plastic with a four-inch platform and a five-inch heel. Why did they bother you so much? "I thought, 'He's going to do this on his own.'" The shoe mysteriously disappeared. "I didn't want to get rid of them, so I hid them," he admits. I thought she had burned them. "No, I didn't. I knew it would go too far."
Marge was a curious mix – she hated the convention, but she hid it. She was not religious, but grew up in an Orthodox Jewish community, and was afraid to commit a crime by speaking "wrong." "I was confident enough in my own decision to be able to accept what other people said."
After all, she was unconventional for her time – a different independent soul. She moved to Birmingham for a two-year teaching diploma, studied in Glasgow at the age of 19, lived in Israel for only two years after independence, became an inspirational teacher for special needs children, and was twice engaged before marrying Baba.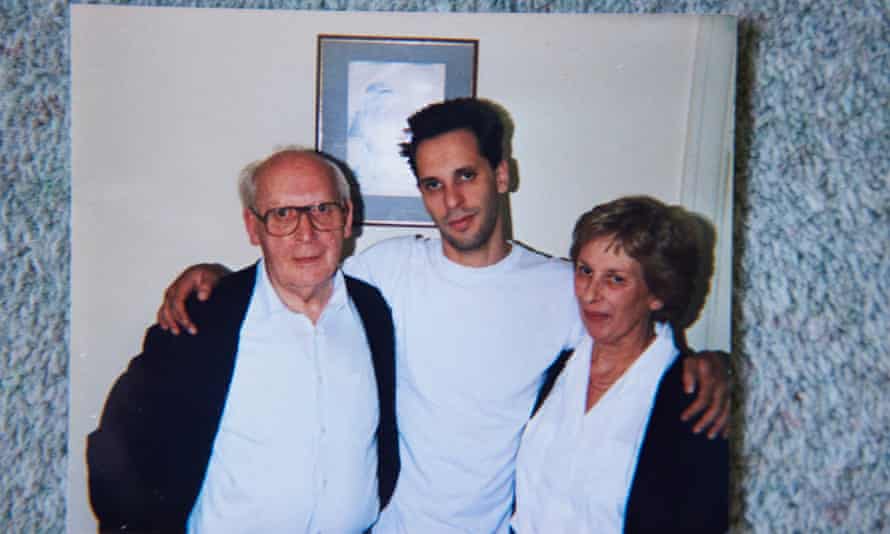 In the lounge, there are pictures of Dad and Alex, who became her boyfriends 15 years after her father's death. It was a wonderful, impossible romance. When Marge lived in Israel, she and Alex were good friends. After his wife's death, he called Marge and reintroduced himself, about 65 years after he last saw her. He still lives in Israel. They became inseparable – talking and playing, eating and drinking, planning and remembering, dancing and romance, on Skype. They never met physically. They thought it could ruin what they had. Alex died in 2017. Who do you think most about, Dad or Alex? "I think of them both differently." What do you think of Baba? "He was a good man at heart and could rarely do any harm to anyone."
However, it was Alex who made her feel loved. "It was all very loud. He was a very outspoken person. He said what he thought, and what he thought about me was good enough to make me feel great. Do you regret not being able to see me physically a second time?" I think it would have been very difficult. "If he had encouraged me, he would have been willing to meet me." I think we were both a little shocked. "
After Alex's death, his mother struggled. She was playing with osteoarthritis, she had broken her back bone, and often told me not to get old wimps. She looked lonely, but she wanted to live in her own house and be in control. Last year she fell short with leg breaks, a series of infections, and a long hospital stay. It all turned into a new, happy, old age phase – back home with the support of caregivers.
Of course, there are days when they are down. Once we speak right before our daily zoom crossword. I wonder if he's still enjoying life. "It's a turning point," she says. "Normally, the quality is going down a bit. As it does. I think it's closer to yes than no."
What do you miss most "I'm going out for a walk on my own two feet." She hates being pushed in a wheelchair. You are doing very well, though, I say. "I'm doing everything right. Of course I am. Yes. Okay, are we playing baby?"
Should I ask you more questions tomorrow? "No, they ask me and finish it!"
Are you worried about money? "No, I don't care. I know you and Sharon are involved. I think I have enough to see me through to the end of my day." She always hoped to leave something for her grandchildren. Now if the money runs out, this is it.
I ask him if he has any regrets. "I'm not telling you my regrets which are, of course, definitely. I have? Yes. But it's foolish to think of remorse. There are some things, Simon, I can't talk about. It's very personal."
In balance, Marge is in a good position. I wonder how important it is that he has a healthy relationship with me and Sharon. "Incredibly important. That's the backbone of my life; the biggest thing that keeps me going." Marge was an adopter of early technology. Sharon and I live in London, and while she's in Manchester, Skype has played a big role in keeping us close. They also seem to be more aware that it is not given to parents and children. "I think a lot of people don't like each other," she says.
What are you proud of "You and Sharon," she says. That's a police-out, I say. "Well, going back for a lifetime, I'm happy to be good at my job teaching children with disabilities. I am made for that. I like it. "Marge likes to talk about her time at Bethesda – or give her the full title, Bethesda Home for Crippled and Incredible Children in Chitham Hill. One day, someone drank Dettol and she had children and wheelchairs piled up in her car and had to be taken to the hospital. "I found great satisfaction in that job.
What scares you the most about old age? "Don't laugh at me," she says. "I never want to be a stinking old woman. She's number one. People say you get old. I don't want people to say that about me.
Anything else
"Well you know your time is running out, and you sometimes wonder what it will be like? So you better think that everyone should go through it, you're not the only one, so you keep going."
Marge says she never thought of dying when she was young. And now "If I don't stop myself, I will." I mean, you look so cute these days. "I am now." Why "I don't have to worry anymore. They're gone."
That's wonderful, I say. What let them go? "There was a time when I cared a lot about what other people thought of me. When I was young, every word that came out of my mouth I thought: is it right, is it wrong? Everything I did. I don't care anymore. " She smiles. "Maybe because there aren't many people left to think about me!"
Marge has promised us that if she becomes seriously ill or disabled, we will not keep her alive longer than she would like. But for now, she is looking forward. She took the first unsupported step after she had just broken her leg. Yesterday she was making Passover biscuits in the kitchen. There is only so much comfort you can do at the age of 94. And she has set herself a new goal. By August, she plans to walk and finish with a wheelchair. We had filmed her taking those first steps a few weeks ago. Reaching the edge of the room, Marge triumphantly returned to the sofa, shaking her camera. "I think I'm on my way," she said.
---
A Two weeks have passed. Merge's walk is improving a lot. She has also built stairs up and down. I tell him we have to take a photo to go with the piece. She asks me to explain why we did this interview. This is for a special supplement in old age, I say.
"Blood cheeks," she replies. "I'm not old!"