Hen Sunday evening, Inyaki Williams boarded a plane from the north to Paris. Leaving there for Le Havre around Monday, Nico Williams was heading in a different direction, south to Barajas and Las Rozas, 25km outside Madrid. On Saturday, a night neither of them would ever forget—a wild, joyous celebration of all they were—they embraced; then, for the first time, Bilbao's brothers went their separate ways. "It was always our dream to play together and see our mother happy," says Inyaki. This week they will not be there, a new chapter in their lives begins. But they would come back, and boy, did they send it off.
As for their mother, Maria, she couldn't be happier. The scheduling means he'll be able to see both of his sons take their next, giant steps for startups. The 28-year-old is likely to make his debut for Ghana against Brazil in France this Friday. The following night, Nico Williams, eight years his junior, will probably play for Spain against Switzerland in Zaragoza. They celebrated those challenges with a 3-2 win over Rayo Vallecano, arriving to propel Atlético into the Champions League. It was Inaki's 239th game in a row — yes, two hundred and thirty-ninth and, yes, consistently – For athletics. It was Nico's 48th overall. It was also the first match in which both scored, with San Mames buzzing around them.
Inyaki first played for Athletic in 2014, still unsure how he got there. She was 20 when her mother sat her down and told her how she was pregnant as she and her husband, Felix, left Ghana, crossed the Sahara by truck and barefoot – Felix still has trouble walking – and climbed over a fence to Melilla in northern Spain. Africa. A few months later, Iñaki was born in Bilbao. Destiny, he says. "My friends and I talk about it: hell, it's incredible. Everything happens for a reason. "If I hadn't been born in Bilbao, I would never have been able to play for Athletic."
Inyaki joined the club at the age of 14 with a purpose. In 2005 or 2006, with his family living in social housing in Pamplona and facing a financial crisis, Felix went to London, desperately looking for work, doing anything and everything he could find. "I knew that if I could do this, I would solve a lot of things, and the idea of ​​​​bringing the family back together was the most important thing," Inyaki recalled. "I wanted to be a footballer, but I also wanted to unite my family." He did it at San Mames: Inaki made 346 first-team appearances, a streak joined by Niko, who joined the club as an 11-year-old.
Now they will play in different teams for the first time. If the results are right, they could even face each other in the World Cup.
Nico was always a little special, almost as fast as Iñaki, but smaller, more skilled, more creative. "More talented", by Inaki's own admission, even if he doesn't have the same drive, the same sense of destiny. He had another advantage: he had a brother. Nico only has one tattoo, a lion cub representing him and a brother he says is like a father. When Felix went to London – "we saw him almost once a year for 10 years" – Nico was two or three. He would make Inyaki his lunch, pick him up from school, take him to football, even referee games – the €10 fee was very useful. In short, grow it. Fierce, sometimes harsh, could lead him. Above all, there was love.
There was a glimpse of that when Nico picked up his second medal at the Super Bowl; Inaki admonished him and told him to put it back on and appreciate what he got. He also put his hand around Nico's neck as he watched Real Madrid receive the trophy. When Nico scored his first goal after the semi-final, he tweeted: "I would die if I loved you more." More messages came as a proud parent following his son's career. When Nico found out he was called up to Spain this week, Inyaki saw a dream come true for both of them.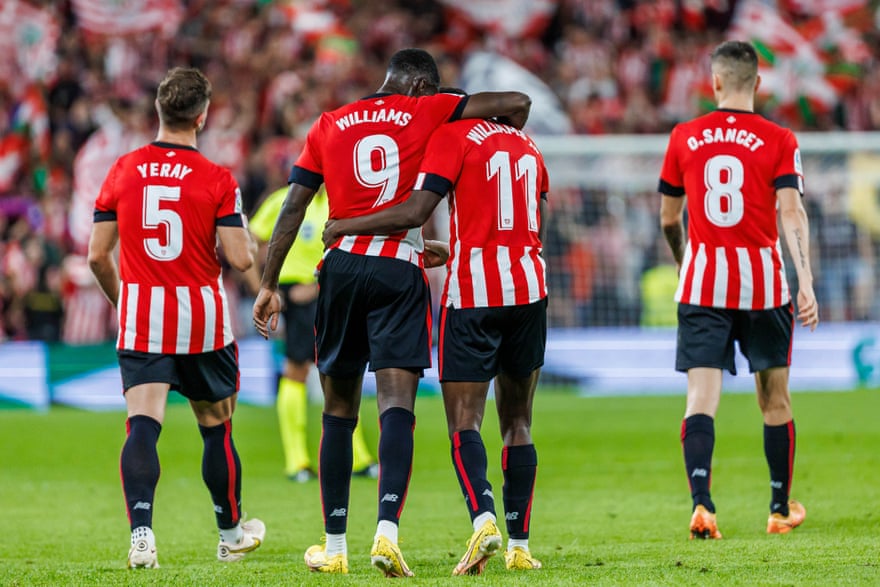 Inyaki played for Spain's U21 team and was called up to the senior team once before for a friendly against Bosnia and Herzegovina in 2016, but never returned. Ghana approached him, but he turned down the opportunity, believing he didn't belong: he speaks Twi but was born in Bilbao, feels Basque and doesn't think it's right to take another player's hopes from them. The Federation persisted – they approached Nico too – and Inyaki changed his mind. Age played a role (at 28, it would probably be his last chance to go to the World Cup), and in the summer he visited Ghana for the first time in years, seeing his grandparents, his family, the places that shaped his life. There were long discussions and something inside him changed.
He talked about his parents about inheritance, travel, studies. "It was time to face my roots and what Ghana and Africa meant to me and my family because Ghana played a role in me. as I am like a son and brother," he said.
Although they've gone their separate ways, they've been brought together, unexpectedly simultaneous senior calls likely to debut one day apart. If they don't play in Havre and Zaragoza respectively, they could start their international careers on the same night: next Tuesday, Spain face Portugal in Braga and Ghana face Nicaragua in Lorca. If Inyaki knew this was coming, Nico didn't. Only 20 years old, still living at home with his mother – the boss as Iñaki calls him – the call was not yet expected, although he has flown this season, something special shines, not least in his outrageous arm against Elche. Continuity, he played every game, starting five of six games.
"I am not doing this to stop him from going with Ghana; he is a young and very interesting player," said Spain's head coach Luis Enrique. "He plays more often with Atletik now. He is progressing magnificently. I like him immensely. We have him in the junior squad and have been watching him for a long time. I think the family will be delighted: imagine the celebration if they both go to the World Cup. They're going to make it to the finals, that would definitely be the job."
As for the party, how about it? Nico's call came on Friday; the next night there was a celebration at San Mames, the best game of the season so far. Rayo vs Athletic, two groups of fans singing together. The two managers who share so much in common, Ernesto Valverde and Andoni Iraola, are facing each other for the first time. And two teams that are really into it: Iraola has likened their style to a kind of "organized chaos," which is the best kind as far as organization goes. The result was a wild, fun ride. One commentator called it "Step into Football", a "monument of the game".
In the words of AS, "Disco with San Mames, 44,000 singing…an explosive football cocktail". "A perfect night," thundered Ander Herrera. "One of those nights that makes you love football: pure rock 'n' roll," reports the Athletic. "You won't enjoy a night like this for a while," El Correo said.
In short, if you've watched it: good luck. If you haven't: do it. Even if you replay it, it will reward such a breathless, tense, unstoppable event that even VAR couldn't destroy – and gosh, it tried. He has 25 tackles, five goals, including Radamel Falcao's furious strike, four clearances and two braces.
First of all, he had two brothers. "We enjoy them, they enjoy us," Valverde said. The conditions were perfect and the Williamses tore it up by whipping up a hurricane. Trailing 0-1 early on, Inyaki scored a superb equaliser, his touch taming Dani García's pass and a flawless save from the defence. Oihan Sancet scored a great goal to make it 2-1. Then came Nico's shot, his brother running and leaping into his arms before Falcao's absurd second-half goal made it 3-2. Iñaki posted a photo of that celebration and wrote, "to be continued …" but for now they have to go their own way and things couldn't be better, begins the pitch interview with Inyaki: "congratulations … for everything."
"We're on a roll," Williams said. "Saturday night, 9 p.m., two goals, win. This is San Mames and we are grateful. We are proud to be together, able to give such Athletic nights. Our mother will be satisfied with her boys."