SCOT THREE
It turns out that pinning all our hopes on Scotland wasn't such a bad idea. At Hampden on Tuesday, Steve Clarke's men went to Ukraine with a fervor and speed not seen since the Liverpool days of the height of the Klopp era, a side you might want your kids to ask their parents about. Older readers may also remember Jim Baxter juggling the ball and seven pints at Wembley in 1967, which The Fiver reckons was the last time Scotland played with such confidence, bordering on arrogance, against an extremely good team. Penny for the insights of captain Andrew Robertson, who is only the fourth best defender in the country behind Kieran Tierney, Aaron Hickey and Nathan Patterson. Oh Andy, it was good while it lasted.
While it was a great night for the Scots, pundits of the game will note that 41 seconds after Baxter's iconic key-uppy, humiliated world champions England went straight at the other end and scored. The man who put the ball in the net was Jack Charlton, limping on one working leg. All this suggests that Scotland have struggled somewhat with consistency over the years. That should focus on Saturday's trip to the Republic of O'Ireland and next week's second leg against Ukraine on neutral Polish soil. Two draws will be enough to secure top spot in Group B1 and a guaranteed spot in the Euro 2024 play-offs. Clarke's team just needs to keep level. It's not really beyond them.
"We have something to give [O'Ireland] also!" shouted a high-life Lyndon Dykes from the fight after scoring two goals. "We wanted to prove everybody wrong. It'll give us a lot of confidence!" It was a performance so rousing that Scotland's Flowers sounded like a 1960s STV jingle by comparison, although his pantomime belligerence could double as a pre-match team talk for Stephen Kenny on Saturday.Dykes fired up the opposition with his big talk and tempt fate? Or will the Scots avenge their 3-0 drubbing in Dublin just three months ago? This superb performance will give their fans renewed hope, albeit with an equally historically minded fatalism. They are good enough; they are Scotland too. anyone knows how it works.
QUOTE OF THE DAY
"I'd like to thank the club for giving me the opportunity – it's a great honor to take on this role," said Mark Noble takes More than any player in West Ham football history takes a club, they created a new gig as a sports director just for him.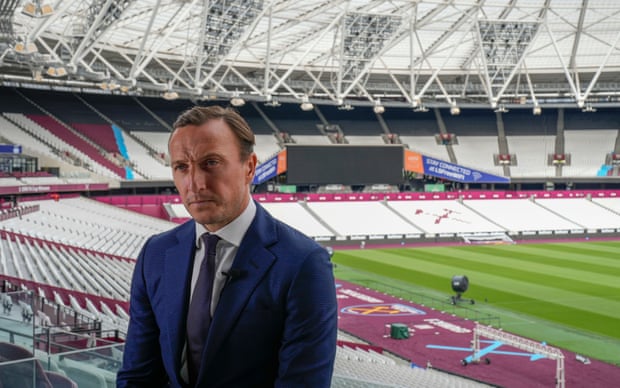 COMMERCIAL WAR OF THE DAY
When you think of Everton, you immediately think of Thomas Gravesen, Lee Carsley and Andy Johnson. Therefore, it is clear that they will team up with Turkish clothing and Vera Clinic, the first Official Hair Transplant Partner, with "high-level industry professionals". One for those Old Trafford suits and then some. Vera, the club declares, will "look around Goodison Park on a match day", leaving fans wondering if a new top knot will boost their confidence as they witness their latest on-pitch travails. "We are proud to be the Official Hair Transplant Partner of a team as established and strong as Everton," said Board Member Kazim Sipahi. "The reason for our success in the hair transplant sector in Turkey is that we attach great importance to teamwork. Similarly, any success in football must come from teamwork." What could go wrong with that kind of synergy?
FIVE LETTERS
"I agree with The Fiver's contention that the League of Nations is not suited to the temperament of the nations (yesterday's Fiver) at home in Great Britain. Perhaps UEFA could create a 'closed' Nations League group made up entirely of UK home nations, with no promotion or relegation allowed. This would reduce the need for foreign teams to come here or for brave Brits to travel abroad for morale-shattering defeats. I've tried in vain to find a flaw in this proposal, other than the fact that fans don't want to watch such a drawn-out and drunken tournament. But this was never considered in the past" – Colin Reed.
"Last night I got lost in the great wormhole that is the internet and started looking at the history of football jerseys. It turns out that the 'shorts' were originally known as 'knickers' and in 1879 Darwen Cotton Mills faced the Old Etonians in the semi-final of the FA Cup. Darwen was teased for wearing knee-cut trousers instead of knits. Fortunately, we live in brighter times now (143 years later) and a group of elites from Eton would never think to look down on the common folk…" – Noble Francis.
"The Five Towers took over the United States a long time ago! USA!! USA!!! using the word "soccer" instead of "soccer". I recently came across a Corinthian Casuals program from January 1984 (incidentally, a certain Alan Pardew wore number 6 for Casuals and future England international Andy Gray was number 10), which states that the members of Casuals were an ex-footballer are proud of. Corinth is credited with coining the word: 'One morning at an Oxford college a friend invited an old Corinthian, C Wreford-Brown, to "a game of ragger after breaker". "No thanks," said Wreford-Brown. "I prefer football." I would suggest that it was a more humiliating export across the Atlantic than the inspiration for the famous São Paulo club Corinthians." – Stuart Webber.
Send your letters to [email protected] You can always tweet The Fiver via @guardian_sport. Today's letter winner is … Stuart Webber, who also took home a copy of Jonathan Wilson's Two Brothers, which can also be bought here.
NEWS, BITS AND BOBS
Confirming concerns about increased disorder at matches in England and Wales, Home Office figures show that 2,198 arrests were made in the 2021-22 season, a 59% increase on the 2018-19 season. pandemic.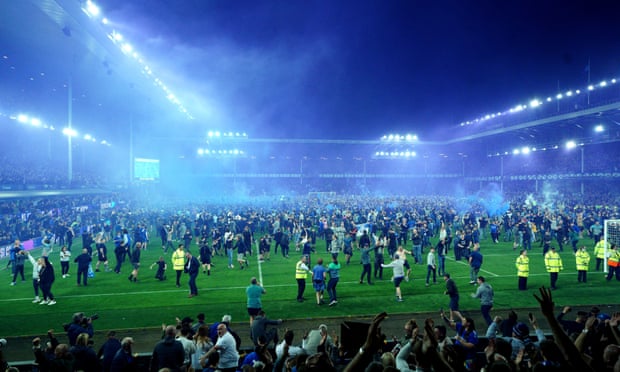 Kilmarnock have launched an investigation after a video emerged of striker Kyle Lafferty using sectarian language while on duty in Northern Ireland.
Derby County have recalled Rotherham boss Paul Warne to League One after sacking Liam Rosenior as interim manager.
The cryptos in charge of League Two bottom side Crawley Town reckon their next step is to sign a talent deal with YouTube collective The Sidemen. Uh-oh. "It's no secret that we want to be 'Team Internet,'" co-chairman Preston Johnson enthused. "And while we usually mean the growth of a global online fan base, why can't that also refer to the players we discover and recruit to join?"
STILL WANT MORE?
Concerns are growing about the state of UEFA as fears of incompetence and nepotism under president Aleksander Cefer have been raised following the near disaster in Paris. David Conn of Proper Journalism has more.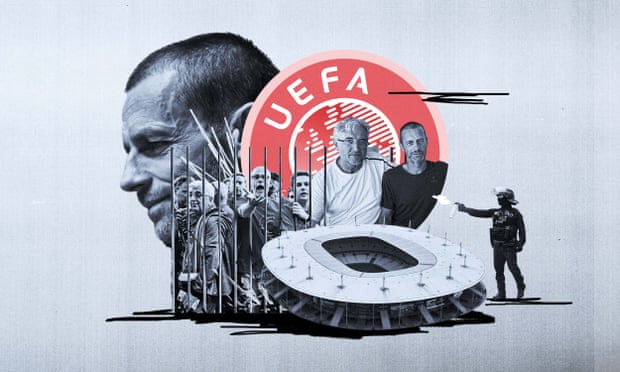 Migrant workers in Qatar have been left in debt after being sent home ahead of the Human Rights World Cup. Pete Pattisson reports.
Structures are over, individual roles are in, writes Karen Carney.
Jack Grealish has argued with several journalists, including Jacob Steinberg, about being a young 27-year-old.
Ewan Murray in Scotland.
And if that's your thing … you can follow the Big Website on Big Social FaceSpace. Also INSTACHAT!